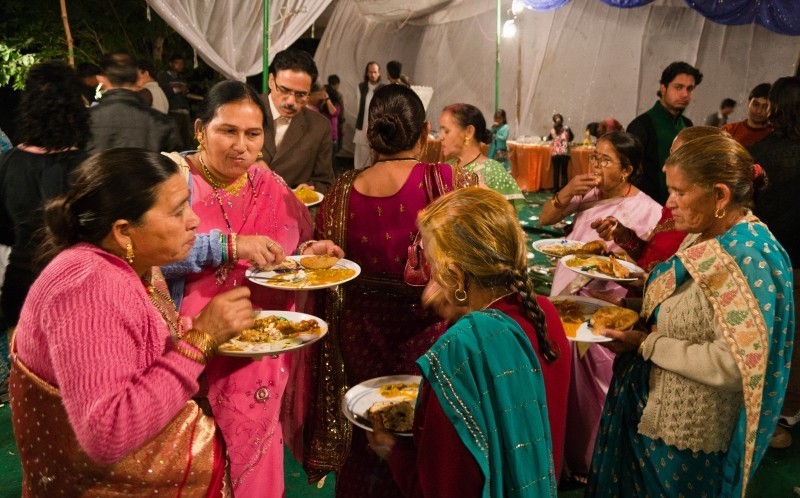 Indian 🇮🇳 cuisine is rich, sophisticated, and differs significantly from the mainly salty cuisine of my childhood. It is hot, spicy, with intense flavors, and simply unforgettable. If experienced without prejudgment, it could be called one of the best cuisines in the world 🌏.
It took me – since I'd never been a hot food admirer – several days to get used to Indian food. But with time, non-spicy food became rather tasteless. In the end, we've been preferring Indian restaurants that were not adapted to foreign tourists' tastes.
Eating in Indian restaurants is extremely affordable by European standards. With a few exceptions, even in expensive-looking restaurants, a large dinner for two costed 10 USD at most.
To be on the safe side, keeping in mind the typically hot weather in India, we've established two main principles:
Choose to eat in tidy places.
Prefer bottled water to the filtered one.
In some places, bottled water is served to foreigners without additional asking instead of bringing more authentic stainless steel cups.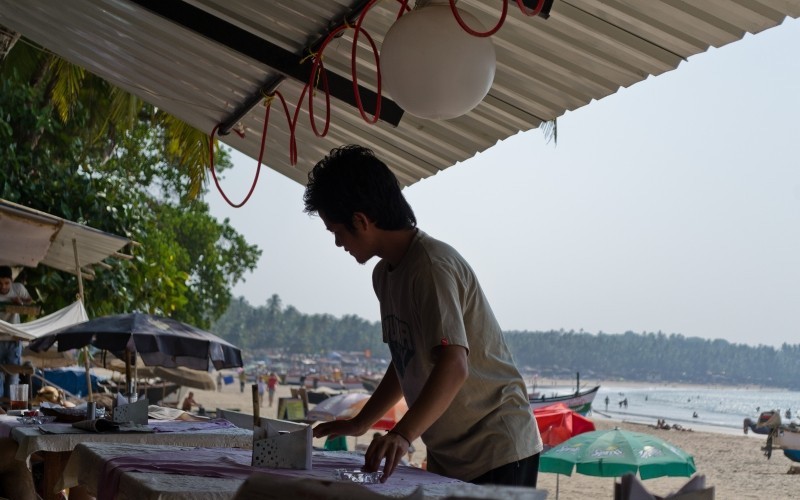 In many places, and even whole cities, only vegetarian food is prepared (I think it's really cool that so many Indians are vegetarians; that's around 25% of the population). But meat-serving and mixed places are present too. To distinguish, restaurants and dishes on a menu are normally labeled as Veg (vegetarian) or Non-Veg (non-vegetarian).
The packaged food is also labeled with a special symbol (a circle enclosed in a square) that shows whether it is vegetarian or not: green for vegetarian and brown for non-vegetarian products.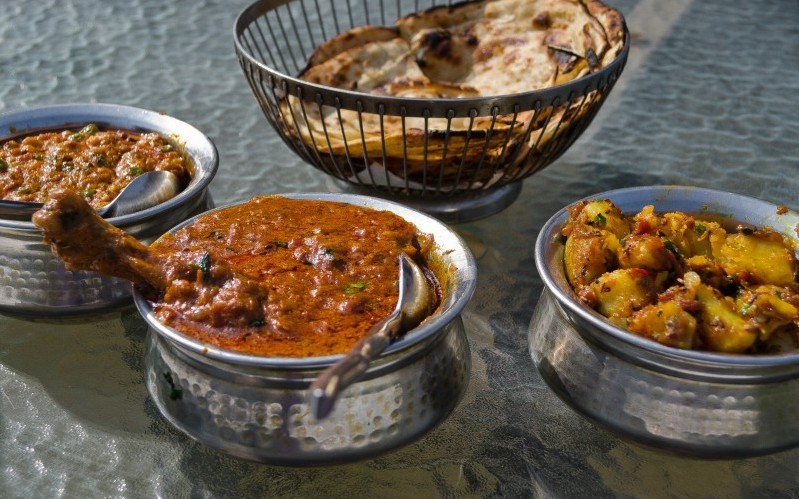 So, what should we order first?
At the beginning of our journey through India, we started with Thali. This is a famous meal that provides a common selection of dishes, typically including rice, Dal (a lentil-based cream soup), stewed vegetables, Curd (fermented milk), Chutney (spices in various combinations), Pickle, and flatbread (Chapati, Roti, Papadam).
Moving south, we got addicted to Masala Dosa – an amazing in both taste and look South Indian dish. Dosa names a sort of a large crispy pancake. Masala in this case stands for a delicious potato curry. Masala Dosa is served with coconut Chutney and Sambar (lentil-based pickled soup).
The photo below shows Puri Bhaji (Puri is a deep-fried dough) at an authentic café in Rishikesh. It was so authentic that we failed to order lunch without the help of a kind passer-by lady who spoke both Hindi and English. The first experience of fetching soup without a spoon was both exciting and frustrating. And yes, the plates were made of banana leaves.
Indian cuisine is a paradise for those who adore chilli. To name a few dishes: Chilli Paneer (paneer is a cottage cheese, it's sold in all dairy shops of India), Chilli Aloo (hot potato), Chilli Prawns (typical in Goa), etc. It is highly recommended to try them. These chilli dishes can be intensely hot and spicy, but they are also incredibly tasty.
A tip: it's better not to chew large chunks of chilli…
I warned you, seriously.
My preference was given to the dishes with cauliflower, especially the Gobi Manchurian; and all the gravy vegetarian dishes. No kidding, aloo and gobi became the first two words I learned in Hindi. Matar (green pea) was the third one.
Indian cuisine is abundant in rice dishes, which can be most easily described as pilafs: vegetarian and non-vegetarian. There is even a dish that goes by exactly that name – Pulao. Combining the name of a base dish with other Hindi words, makes it easy to order food. For instance, ordering Matar Pulao, you get rice mixed with green peas (and many condiments).
Kashmiri Pulao is a sweet – and very delicious – variation made with nuts and fruits. Once we got it served in an emptied half of a pineapple, which was gorgeous. But tomatoes (!) could sometimes be added too. So be prepared for unpredictable Indian combinations, since an element of surprise is typical for the subcontinent.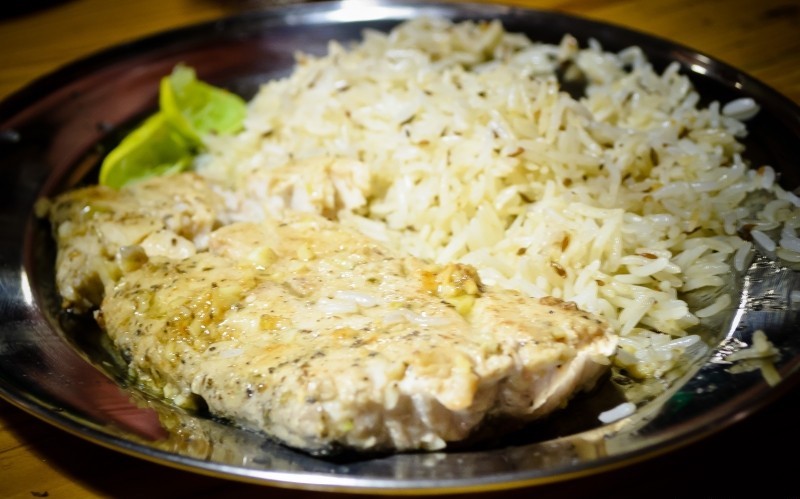 Continuing on the subject of unpredictability – never expect a dish to have the same flavor tomorrow in a restaurant you just visited.
A tip: Throw away any expectations, and you won't be disappointed!
We also noticed that it's generally better to order different dishes for two people than the same one. Otherwise, the chance of getting two smaller portions instead of large one becomes quite high. As we got it, the cause was not greed but rather the size of a frying pan and the cook's (lazy) mood.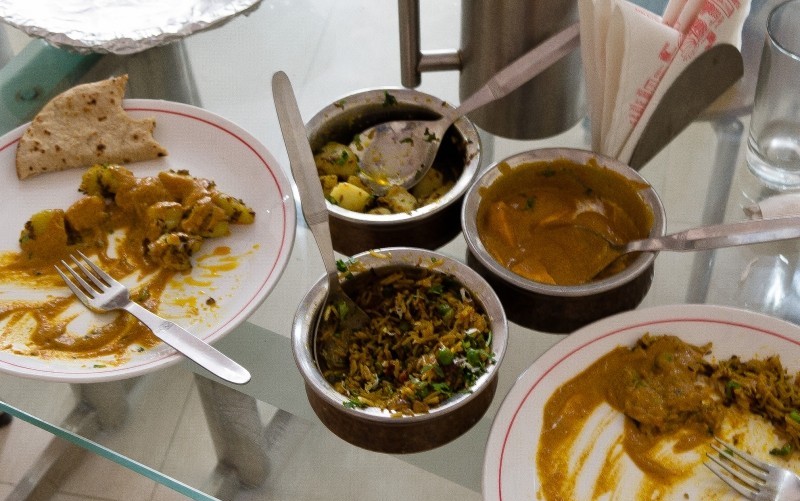 Well, Indian cuisine has much more to offer. Only the dishes that impressed us the most are listed here. However, the meals are typically made of varying combinations of vegetables, paneer, spices, and possibly meat. Normally, they can be ordered in two variations: gravy (with juicy sauce) or dry.
In addition to authentic Indian food, it's also possible to order Continental Food. For instance, toast and scrambled eggs. We do not recommend ordering pasta or pizza to lower the chances of getting an unpalatable meal.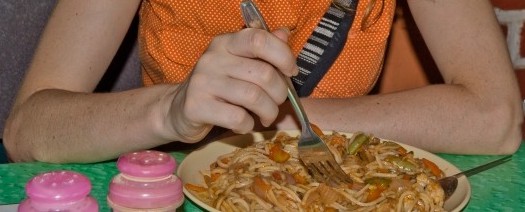 Though that depends on the place, of course. Lalita in Rishikesh (look for Mama Mia place in Tapovan), for instance, prepared excellent pasta. And we found a nice pizza place at Gokarna's Kudle Beach. In Goa, the food is usually adapted to foreigners' tastes. (By the way, in Goa I was particularly impressed by the Tandoori Fish made on Palolem Beach.)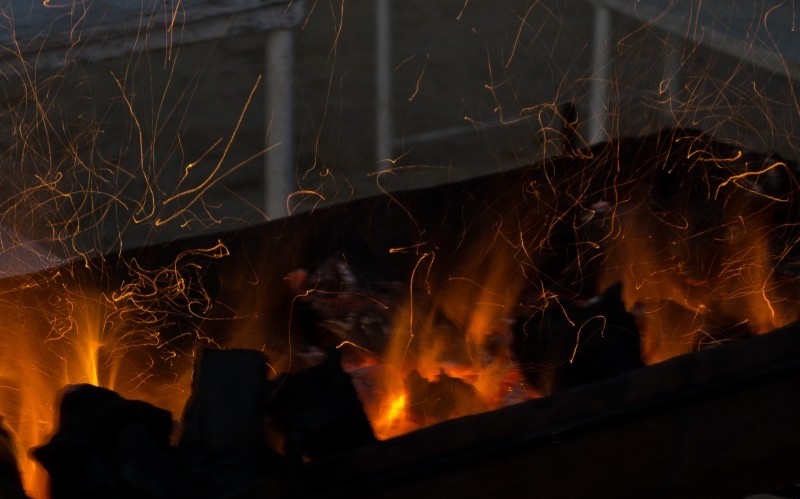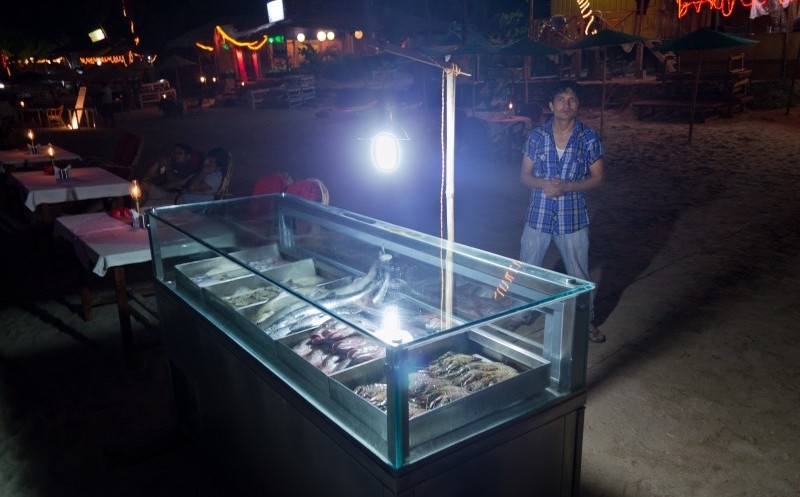 Oh, and I almost forgot sweets!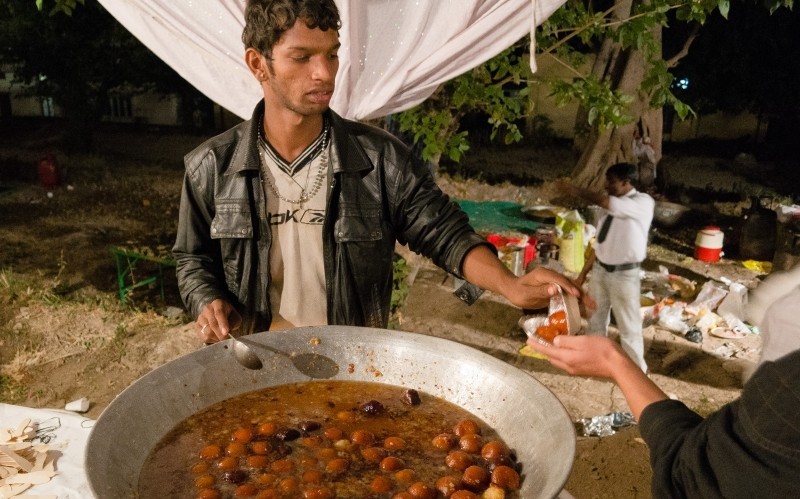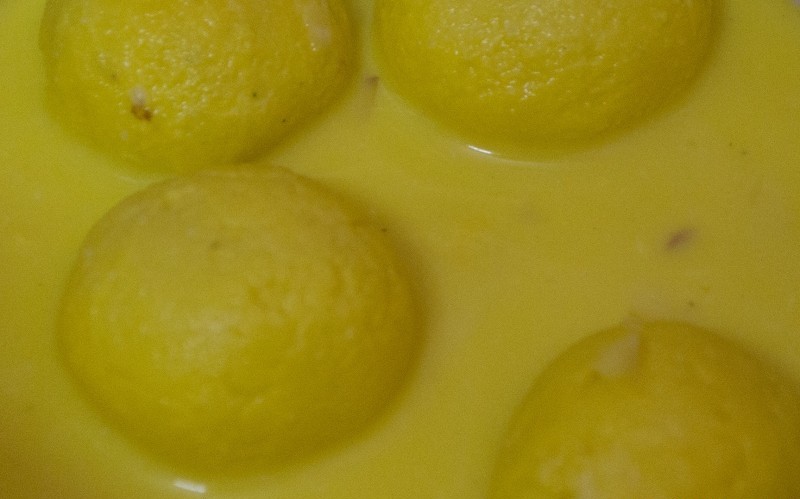 The most delicious Indian sweets we ate in Rishikesh, in the restaurant Rajasthani. It is located near the central bazaar.
On your visit to Goa, try the unforgettable desserts Dodol and Bebinca, made from coconut milk. They are even sold packaged, without losing their deliciousness. Don't miss out on them!